Medicinal marijuana user wants police apology for bust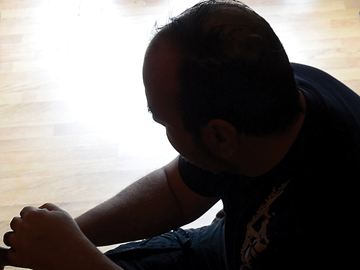 Geoff Prior had his medicinal grow-op busted by police.
Georgina Advocate – Oct 25, 2013 
A medical marijuana user has admonished York Regional Police for busting his own "personal and legal" marijuana grow operation and then charging him with intent to distribute the drug.
Geoff Prior and his wife want the force to apologize for busting into the Georgina couple's Riverview Beach Road home and removing the plants, despite its knowledge he has been a legal medical marijuana user for years.
"I am disabled and am in severe pain. I have never sold marijuana in my life and I use this drug for no other purpose than for pain relief," said the father of seven children.
"Marijuana was suggested to me by my doctor to get away from very powerful narcotics like oxycodone and morphine."
While Mr. Prior admits to growing the plants on an expired Health Canada licence, he insists he had little choice, saying the cannabis is "the only way I can get out of bed each morning".
York police officers didn't see it that way and executed search warrants on the former contractor's Pefferlaw home Oct. 8.
The force sent media a release stating Mr. Prior had been charged with possession and production of a controlled substance with intent for the purpose of trafficking and his wife with possession of the drug.
The release stated 99 plants were found growing in the basement at an estimated worth of $101,000 along with scale and packaging material.
Furthermore, officers said growing marijuana plants with an expired licence meant Mr. Prior was not acting legally.
Mr. Prior says even though he has never sold marijuana, he's had his home invaded by police three times over the past few years.
The first incident, according to Mr. Prior, occurred in 2010, when he was found with three pounds of marijuana and then again year later, as he was applying for his licence, during which the police seized 2-1/2 ounces of marijuana he had purchased.
Since then, all charges, including those of possession for the purpose of trafficking, were dropped, he said, after he pleaded guilty to possession and was fined $1,500.
The real problem, he insists, is likely an angry neighbour who continues to call police.
He also takes umbrage with the force, which, he believes, is simply refusing to accept that his plants are for "simple pain relief" and are not being cultivated as not a money-making venture, adding he needs copious amounts of pot for his daily doses of marijuana tea that contains between six and 10 grams a day. He needs this supply to ease severe pain brought on by injuries he received after being hit by a drunk driver while on his motorcycle in Beaverton in 2004 when he broke both legs and arms along with 47 other bones, fractured his skull and had to have 18 pounds of titanium and steel built into his body, including his arms and wrists.
After the incident, while still in a wheelchair, he saw a doctor who suggested marijuana as a remedy.
Since then, he has started walking again with the assistance of a cane, but still suffers from a "locked hand and foot" that can only be soothed by the tea, which "relaxes his muscles".
In April, his licence expired and, despite asking Health Canada for an extension, until the agency's new program, in which users can purchase marijuana from federally licensed companies only, his application was never accepted.
Health Canada said as of March 31, 2014 grow licenses will no longer be valid.
The agency said a possible problem with Mr. Prior's application was that he may have allowed it to expire before applying for renewal, in which case he would not be allowed to re-apply because he would be considered a new applicant.
So he just carried on growing to stay mobile.
At the time of the bust, Mr. Prior said he was growing 37 plants, including 25 that were ready for harvest and 12 that were about to flower.
On top of that, he said he had many cuttings, scales and baggies, which he said are needed to weigh out each day's dosage and to store 1,500 gram.
Mr. Prior said police overstepped their boundaries, something, he said, became obvious after a number of officers at his home sympathized with his situation.
"A fair comparison that a police officer made when he was here was that I was driving with an expired licence," he said. "If you compare it to a driver, someone caught driving on a suspended or restricted licence would face criminal charges because they are breaking the law. Someone caught with an expired licence (as is my case) he would get an $80 fine."
He added past court decisions have found it to be a violation of the Charter of Rights to deprive someone with a serious illness of medical marijuana if it relieves pain.
"At the end of the day,  alternatives would be oxycodone and morphine and we all know the kind of carnage those drugs have inflicted on people," he said. "I don't understand why I am being punished for wanting to ingest something natural that helps me get through the day."
After police issued a media release on the matter, yorkregion.com was contacted by a neighbour who said Mr. Prior has been busted in the past, adding five children are living in the home.
However, Mr. Prior said the plants were grown in a "no-go" area of his home that houses an indoor pool that is separately ventilated and well secured so no one but himself can access it.
Meanwhile, police insist the Oct. 8 charges are legitimate and that all evidence will be dealt with in court.
"Police conduct thorough investigations into potential grow operations," said Const. Laura Nicolle.
"Part of any investigation would be to consult with Health Canada to determine if a person possesses a valid personal use production licence for medical reasons. A person would not be charged if they possess a valid licence and is operating within the parameters of their licence."
Investigators entered Mr. Prior's home under the authority of a search warrant and discovered bags of dried marijuana amounting to about one pound and a grinder, she added.
Article source: YorkRegion.com