47-year old first grade teacher charged with three felony counts of poisoning after bringing food laced with-THC to a staff potluck at an elementary school.
(CNN) — Police in Northern California have arrested an elementary schoolteacher after she allegedly brought marijuana-laced food to an after-hours employee potluck dinner.
Teresa Gilmete Badger, a 47-year-old teacher at Matthew Turner Elementary School in Benicia, was arrested Friday afternoon on suspicion of poisoning after a six-week-long investigation, said Lt. Frank Hartig of the Benicia Police Department.
After the late-November get-together in the Bay Area town, several people reported feeling ill, a police statement said.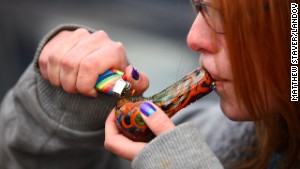 Obama, Perry backpedals on marijuana
"One of the partygoers was rushed to the hospital with severe reactions; she was hospitalized," Hartig told CNN affiliate KPIX. "The very next morning, another partygoer was taken to the hospital, because she continued to feel like she was under the influence of something."
At least one of the women tested positive for THC (Tetrahydrocannabinol), the principal intoxicant in marijuana, police said.
A 15-year-old also got sick after someone at the party brought leftovers home, according to police.
During their investigation, police said they were told that Badger had "allegedly confessed her involvement to individuals who were also in attendance at the party."
She was arrested Friday and booked into Solano County Jail in Fairfield. Bail was set at $15,000.
Badger chose not to speak to arresting officers, Hartig said.
Is marijuana as safe as — or safer than — alcohol?
ARTICLE SOURCE CNN.com