Medical pot helped Marie regain her life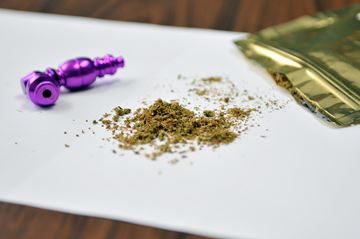 Bill Tremblay
Marie, a Dufferin County resident, explained how marijuana helps her cope with pain following a brain aneurism.
Orangeville Banner
Marie no longer has to juggle numerous medications.
After doctors found a brain aneurism embedded in her optical nerve, the Dufferin County woman discovered she would no longer live life without pain.
"I dealt with it. The pain was huge," she said.
The aneurism required extensive surgery, where part of her skull and eye socket were removed to gain access to the problem.
"They had me on so many medications before and after the surgery. … My doctor was giving me medications to counteract side effects of other medications," Marie said. "It really messed up my system, so I kind of stopped taking all medications."
However, abandoning her medication meant she was often met with unbearable pain.
"It meant when I had a blowout headache, I'd have to go to the hospital to be fixed," she said.
About three years after the aneurism, one of Marie's doctors suggested a marijuana prescription might help ease her pain.
"Before I tried it, I was very sceptical. I'm a single mom of two kids. I don't want to be a pothead. There's just so many angles," she said.
"I didn't look down on people for using it, but I couldn't grasp it. I didn't understand it."
On the advice of a friend, Marie decided to try medical marijuana.
"That was the first time in three years that I had no head pain," Marie said. "It blew me away at how effective it was."
Now four years later, Marie said she uses marijuana about five times a month.
Although she is prescribed one gram per day, a month's prescription lasts about one year.
"It gives me refocus and helps the pain," she said.
"It's definitely improved my quality of life. I don't want to walk around like a zombie."
While morphine is still required in extreme cases of pain, Marie has eliminated most pharmaceuticals from her treatment.
"And it's replaced hospital trips too," she said. "I have had headaches that knock me out for a week or 10 days."
Marie's last name was withheld due to the stigma surrounding the medical use of marijuana.
"I don't tell people. It's not like I'm ashamed of it, but people are judgemental," Marie said. "My kids' friends…don't have a clue."
Marie prefers to make a tea from her prescription, to avoid smoking in front of her teenage children.
"I never smoke it when they're awake or home," she said. "(Tea) doesn't negatively affect me. It doesn't make me stoned. It doesn't give me a body buzz."
Although she refrains from smoking in front of her children, she is open about her prescription with her kids.
Her prescription is kept under a lock and key.
"It's just the three of us, they've lived their life taking care of mom. They know my whole medical situation, I'm always honest with them," she said.
Marie's marijuana is mailed to her home from Prairie Plant Systems, a government-approved production facility in Saskatchewan.
The application process is nothing short of signing over your first-born child," she said.
"The application is a very long and grueling process."
New regulations surrounding Canadian medical marijuana laws come into effect on Apr. 1.
While many prescription holders will no longer be able to grow their own medication, Health Canada media relations officer Sara Lauer said Marie wouldn't see a disruption in supply.
"You have to be licensed with a commercial producer to continue receiving medical marijuana," Lauer said, noting Prairie Plant Systems is one of four production facilities approved by the government. "Getting it from them should be fine."
However, Marie's prescription may be available from a producer closer than the prairies. Orangeville has received several inquiries about establishing a production facility within town.
The requests have council looking at how they could regulate the new industry looking to set up shop in the municipality.
The federal government already has numerous regulations in place for those looking to grow medical cannabis.
"There's a whole set of qualifications and things you need to have to get your license granted," Lauer said.
The application also requires written notice is provided to local police, municipal government and Fire department.
"It's a long process. They have to pass everything for us to grant them a license.
One of Health Canada's requirements for a facility is strict security.
"You have to have your ducks in line to get your license," Lauer said. "It's not easy … there's really strict security requirements."
Article source Orangeville.com