Health Canada Medical Pot Guidelines Diss Medical Pot Repeatedly
The Huffington Post Canada  |  Posted: 04/18/2014 12:24 pm EDT  |  Updated: 04/18/2014 12:59 pm EDT
If you're wondering why many Canadian doctors are so reluctant to prescribe marijuana to patients, Health Canada's information site for health-care providers might provide some clues.
The government agency, the very body tasked with developing Canada's Marihuana for Medical Purposes Regulations (yes, that's how they spell that word), has made it abundantly clear that it does not endorse marijuana for medical uses, with not one but three warnings to physicians on a single page explaining how the program works.
This probably stems from the fact Health Canada isn't running the medical marijuana program voluntarily, but has been forced to do so by a series of court rulings.
All the same, is it any wonder that many doctors' groups have come out against the drug and patients have such a hard time finding a doctor willing to consider the plant's potential therapeutic benefits?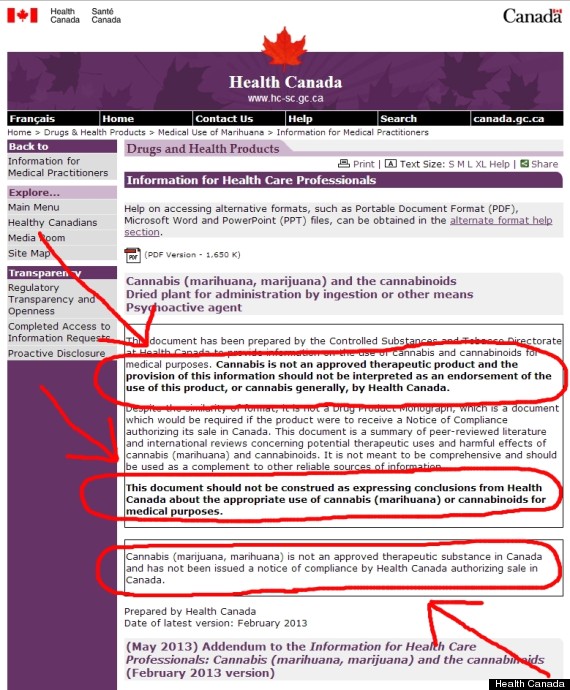 The three statements are:
Cannabis is not an approved therapeutic product and the provision of this information should not be interpreted as an endorsement of the use of this product, or cannabis generally, by Health Canada.
This document should not be construed as expressing conclusions from Health Canada about the appropriate use of cannabis (marihuana) or cannabinoids for medical purposes.
Cannabis (marijuana, marihuana) is not an approved therapeutic substance in Canada and has not been issued a notice of compliance by Health Canada authorizing sale in Canada.
Article source Huffingtonpost.ca