Clayton Goodwin, Veteran Turned Medicinal Pot Activist, Seeks Meeting With O'Toole
CP
 |  By Arielle Follett, The Canadian Press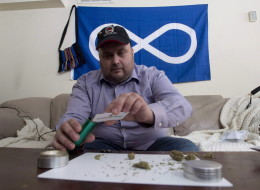 OTTAWA – Former soldiers who want timely access to medical marijuana say they are undeterred despite having been denied a meeting with Veterans Affairs Minister Erin O'Toole.
Retired corporal Clayton Goodwin, who represents a group known as Veterans for the Use of Medical Marijuana, was shut out of O'Toole's stakeholder meeting Tuesday at the Canadian War Museum.
A spokesperson for the minister said Veteran Affairs staff have spoken with Goodwin and are setting up a one-on-one meeting.
"There isn't a lot of blame to be placed on Veteran Affairs, they're working," Goodwin said.
"It's more that we need to work towards ending stigma and shame and get more voices in a room because I'm not aware if we're ever brought up in there."
Veteran Affairs data shows the number of ex-soldiers eligible for medical marijuana jumped to 601 in the last year, up from 116 the previous year.
Those veterans are facing unacceptable delays in procuring the drug and the government is taking too long to reimburse them, he added.
"If everyone is in (the meeting) representing some section of the Veteran Affairs file, I would like to know if we're being represented. Because if we're not, that's 600 silent voices."
O'Toole, meanwhile, said Veteran Affairs will be hiring more than 100 new disability benefits staff, speeding up the application process — and complimenting the more than 100 new case workers announced earlier this week.
In the meeting, the minister did not specifically address the issue of medical marijuana for veterans.
O'Toole also said he wants Veterans Affairs to strive for service excellence and to work closely with the Canadian Armed Forces.
"We want everything we do to be 'veteran-centric,' having the veteran and their family at the core of everything we do," he said.
"We should constantly be reviewing how we discuss things with veterans and how to meet their needs in the future. And in areas where there are challenges, let's try to tackle those challenges. Let's not shy away."
He also said the government is revising the New Veterans Charter, the federal government's benefits agreement with ex-soldiers, in an effort to "take the politics out" of the discussion and get rid of "unintended gaps."
Article source Huffington Post
Veterans Affairs minister announces more help, but medical pot proponent not impressed