Marijuana stocks drop as Trudeau's pot czar says Canada won't rush into legalization
JEN SKERRITT AND JOSH WINGROVE
Published 
As investors flock to Canada's burgeoning marijuana sector, Prime Minister Justin Trudeau's government is signaling recreational pot sales aren't imminent.
Lawmaker Bill Blair — the former Toronto police chief leading Trudeau's legalization effort — confirmed a bill is due in parliament this spring, but it won't be the last hurdle as ample regulatory work remains. The federal government will take its time and work with provinces, territories and cities to build a framework and develop specific regulations, he said.
The government is also looking for ways to control production, distribution and consumption of legalized marijuana, while testing it for quality and keeping it out of the hands of minors, Mr. Blair said.
"We will take as much time as it takes to do it right," Mr. Blair, the parliamentary secretary to Canada's justice minister, said in an interview Monday. "I'm pretty reluctant to suggest a specific time frame, frankly, because I don't know how long this will take in each of our 10 provinces and three territories."
Mr. Blair's comments come as Canada's nascent marijuana industry balloons, with investor optimism being fueled by analyst estimates that recreational sales could start as early as 2018.
The government's plan to introduce legislation in the spring of 2017 "could pave the way for the legal sale of recreational cannabis by 2018," Canaccord Genuity analysts Matt Bottomley and Neil Maruoka said in a November research note. Canada's recreational pot industry has the potential to reach $6-billion in sales by 2021 if legalization occurs along "expected timelines," according to the note.
Canopy Growth Corp. became the first marijuana unicorn in 2016 and had a valuation of $1.9-billion on Monday. Other producers, including Aurora Cannabis Inc. and Aphria Inc.Inc., have seen their share prices surge more than 400 per cent in the past 12 months.
Canopy shares fell as much as 7.5 per cent in Toronto while Aurora tumbled 5.1 per cent and Aphria slid 3 per cent.
Dampened Buzz
"If they delay, there's going to be a lot of eggs that are going to break in this business," Chris Damas, an analyst at BCMI Research in Barrie, Ont., said by phone Monday. "The valuations are extreme."
Licensed marijuana producers are in the midst of expanding their capacity and there will be a "huge amount" of excess cannabis if Canada delays legalization, Damas said. The analyst said Mr. Blair's previous comments suggest it's unlikely the government will introduce a bill by June and companies with huge valuations "won't have any serious business" if the recreational market takes longer to come to fruition.
"There could be a lot of disappointment," he said.
In a separate interview Monday with the Canadian Broadcasting Corp., Mr. Blair said the government was going to design a legalized marijuana system that included measurement and testing of products, as well as enforcement. While the proposed legislation is due this spring, "it's not sufficient to simply come forward with a bill," he said.
The government may also explore ways to direct revenue from marijuana sales to funding additional drug treatment, including for fentanyl as Canada grapples with an opioid crisis, he added.
Since taking a position on legalization ahead of the 2015 election, Trudeau has gradually turned toward emphasizing safety, saying regularly it shouldn't be easier for youth to buy marijuana than to buy beer. Putting the file in the hands of a prominent law-enforcement veteran is another signal the government is approaching legalization with an eye to tight regulation.
Blair declined to comment on whether the regulations could be finalized by 2018 — an expected election year in Ontario, home to Canopy and other companies — or 2019, when the next federal election is scheduled.
The Task Force on Cannabis Legalization and Regulation issued a report in December that recommends the Canadian government regulate the production of marijuana while provinces control the distribution and retail sales, including through dedicated storefronts with well-trained staff or by mail.
Article sourceGlobe & Mail
Canadian Weed Stocks Lose Hundreds Of Millions After Liberal Comment
The Huffington Post Canada 
 |  By Daniel Tencer
Canada's publicly-traded marijuana companies saw their stocks dive Wednesday, after the Liberal government's point man on legalization cautioned the government will take its time on the move.
Ontario-based Canopy Growth — which bills itself as the world's largest medical marijuana producer — saw its market value plunge nearly 18 per cent between Monday's close and Wednesday morning, to around $1.53 billion. That's a market value loss of more than $300 million.
Most other marijuana stocks fell Wednesday as well, with Aurora Cannabis down 6.7 per cent, OrganiGram down 12.6 per cent and Supreme Pharmaceuticals falling 11.2 per cent as of 11:30 am ET Wednesday.


Canopy Growth's market value has declined by more than $300 million since Monday. (Chart: TMX Money)
Bill Blair, the parliamentary secretary to Justice Minister Jody Wilson-Raybould, told Bloomberg news the government wouldn't rush marijuana legalization. While the bill is still expected to land in Parliament in the spring as promised, a lot of regulatory work will remain to be done, Blair said.
"We will take as much time as it takes to do it right," the former chief of Toronto police told the news service. "I'm pretty reluctant to suggest a specific time frame, frankly, because I don't know how long this will take in each of our 10 provinces and three territories."
Those comments appeared to take a heavy toll on marijuana stocks Tuesday and Wednesday. Analysts say traders had already priced in the expectation that these companies would be selling recreational marijuana in Canada in the near future.
"If they delay, there's going to be a lot of eggs that are going to break in this business," BCMI Research analyst Chris Damas told Bloomberg. "The valuations are extreme."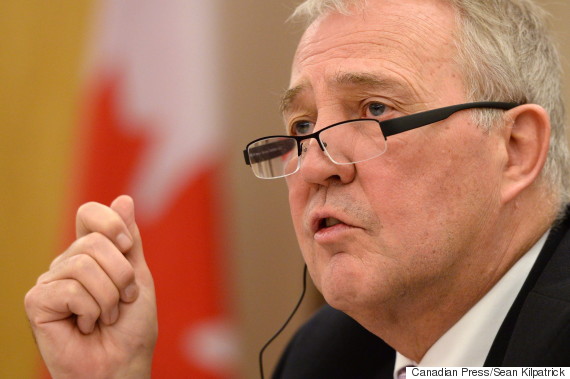 Liberal MP Bill Blair says the government won't rush legalization of marijuana. (Photo: The Canadian Press/Sean Kilpatrick)
Some investors are betting there is a bubble in Canadian marijuana stocks, created by excessive optimism about the prospects of legal weed.
Damas suggested marijuana producers may be overproducing, in order to get in on the recreational pot market. There could be a "huge amount" of excess cannabis if the government delays legalization, he said.
Marijuana stocks traders were already facing regulatory uncertainty in the U.S., after the White House suggested it is opposed to recreational marijuana.
In a recent interview, Blair made it clear that the legalization bill is only the first step in the process.
"The responsibility for determining the regulatory framework and the environment for distribution really rests with the provinces," he told the London Free Press.
"Within our constitution, that's their responsibility . . . whatever systems the province choose to put in place, we want to make sure it is an effective regime for keeping this out of the hands of kids and competing effectively with organized crime."
Blair said he has met with supporters of the marijuana dispensaries that have popped up in some Canadian cities, reminding them their activities remain illegal for now.
Article source Huffington Post